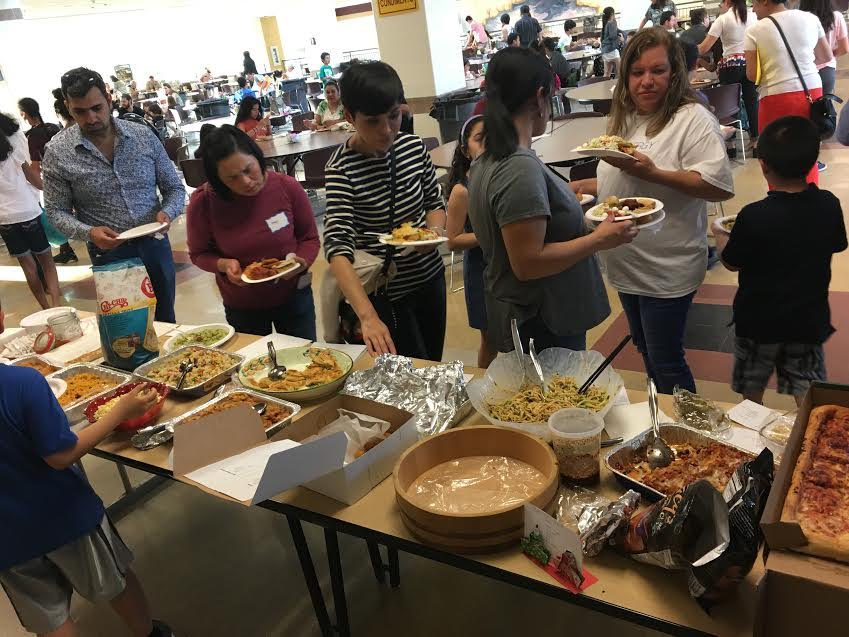 Submitted Loni Sotir
In the current political climate, the school community has become more and more aware of the contribution that immigrants provide  not only locally, but around the world. However, the struggles of immigrating to a foreign country are oftentimes forgotten by many.
The English Language Development Department in Northborough and Southborough strives to ease this difficult transition for local families. The department's many efforts involve aiding immigrant families through providing knowledge about the community and embracing the many cultures in Northborough and Southborough. These objectives were manifested through their planning of International Night, which took place on April 28.
"Often times families who arrive from other countries have not yet formed a community and moving to a new country with a culture that may be different, a food that may be different, and the language that may be different, can be scary," English language development teacher Lori Miller said. "You leave behind families and friends and it's often times challenging to arrive to an unknown world. So this event brought lots of children and community members to come together and get to know each other."
The ELD [English Language Development] department collaborated in crafting an event that would be simultaneously enjoyable and meaningful. In this event, several programs throughout the community set up tables to educate the families about the resources offered to them, while participants bond with each other and eat the cultural food brought by each of the families.
"The collective sentiment, certainly in today's political climate, of the K-12 department was to acknowledge and value different cultures and different linguistic backgrounds, and really celebrate them," ELD teacher Jennifer Cuker said.
Students and families saw the importance of this event and thoroughly enjoyed the sense of community it brought.
"[Events like these] are important because you can meet people from other cultures and you can learn things about other cultures, like the way they speak, and their language, and it's pretty cool, " junior Wender Coelho said.
This event also shined a light on the importance and prominence of immigrants throughout the Northborough and Southborough communities.
"Both the towns, Northborough and Southborough, are more diverse than they have been before," Cuker said. "The children who are our students in the system come with a variety of backgrounds and knowledge in different areas. Them being able to share that with the children who were born here and raised in more monocultural and monolingual households is really neat."
The ELD department hopes that events like International Night will continue to grow and become an annual event, as they value the importance of building a community within immigrant families.
"It was nice to slow down and spend time together as families and a school community because life is so busy," English language development teacher Bridget West said. "It's nice to stop and appreciate what we have and learn from each other, while tasting some delicious food."