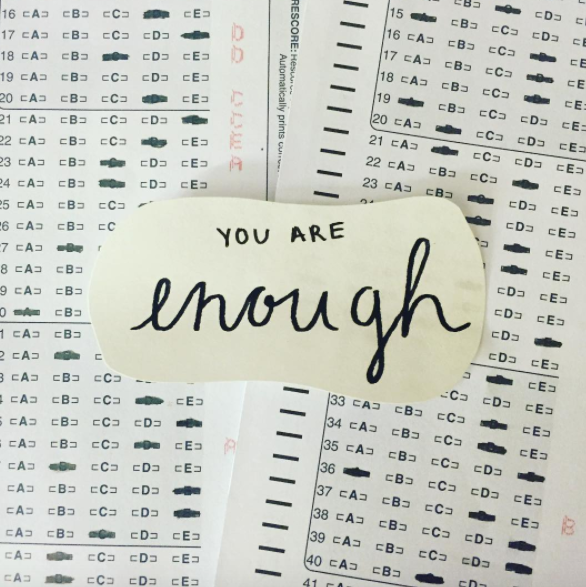 Submitted Annelise Eppen
Standardized testing heavily characterizes the academic life of most students across the world. Often, high-stakes testing like MCAS and PARCC serves as a measurement of academic performance on the district, state, and national level for education administrators. With variations across these regions, it serves as a national barometer of a student's knowledge, in comparison to the nation- and with tests like the SAT or ACT, the world.
However, many affiliates in education, teachers, and students – especially in Massachusetts – are rallying behind the slogan "Less Testing, More Learning." Through advocates plastering bright yellow stickers on their laptops, water bottles, and classroom doors, the movement unites educators – and other members of the academic community – under the belief in restructuring school curricula to not focus heavily on achieving mandated standardized testing.
Throughout her school career, senior Annelise Eppen felt upset when her teachers would spend months teaching how to perform well on the MCAS and answer multiple choice questions.
"That is a skill that does not apply to the real world or make you want to learn," Eppen said. "It's something that I have always believed throughout my entire educational career- that actually learning things and caring about the material you're learning is so much more important than performing well on a test."
Teachers are also behind the movement; Spanish teacher Janette Araya has a sticker stuck on her desk.
"I hope [people] see that our focus needs to be on learning, becoming more educated people and not people who can pass a test," Araya said.
Eppen acknowledges the relevance of testing, but emphasizes that the "Less Testing" movement stands against how high-stakes testing is utilized and perceived in academia- which includes how such testing often leads to less fruitful curricula and learning.
"It's more about standardized testing, such as MCAS and the PARCC test, and high-stakes testing- testing that will go on to be used to judge students and school districts and teachers in evaluations," Eppen said. "The movement says that this kind of high-stakes testing should not be used in the way it is. I agree that school curriculums shouldn't be shaped around these standardized tests, and they should focus more on actually trying to learn things."
Araya believes that not only will students not see the value in learning, but teachers will not be able to deeply explore topics.
"I think it's damaging in that you can't spend as much time on the learning," Araya said. "You have to cover a certain amount of material. Let's say you got excited about a particular topic and wanted to spend more time on it, you really can't because you have to cover this material. Or you spent more time on something interesting and now you have to rush, rush, rush to get through everything else. So the students don't really learn it as well; they can't appreciate it and internalize it."
While in the midst of midterms, junior Jessica Yin finds herself being especially vocal against "testing culture." Yin finds herself sacrificing learning in order to do well on her exams.
"I feel like I've been raised in a really unhealthy mindset where everything is just tests and tests and tests and tests," Yin said. "It's midterms week, and it's just tests and tests. I don't even care about learning anymore; it has gotten to the point where I just want to do well on a test and try to live and survive by that [and] not necessarily learn."
It is this mindset that Yin argues against, and she hopes to express these concerns through her support for the movement.
"I'm not saying "Less Testing," necessarily; it's just changing the mindset and the way we approach things," Yin said. "It's not actually the tests, because I do believe they are necessary. It's really about the culture and mindset that has developed. I want students to feel less of an emphasis [on testing]. Maybe this will start from colleges putting less emphasis on testing and putting self-worth in numbers."
Similarly, Eppen hopes that the messages and vocalizations produced by the movement will prompt actions from the "school board and the government that sets up school curricula."
"I hope that it will spread to that level where they can make executive decisions about changing the way we think about standardized testing and testing overall," Eppen said.
To do so, Eppen believes the community needs to initiate conversations and from there, elevate the message to administration.
"I think we need to start a dialogue about this, starting in classrooms with students who feel passionately about this – I know there are a lot of them because I talked to them," Eppen said. "And we can just show people that we thoroughly care about learning and it's a priority to us above whatever standardized testing is doing for us."